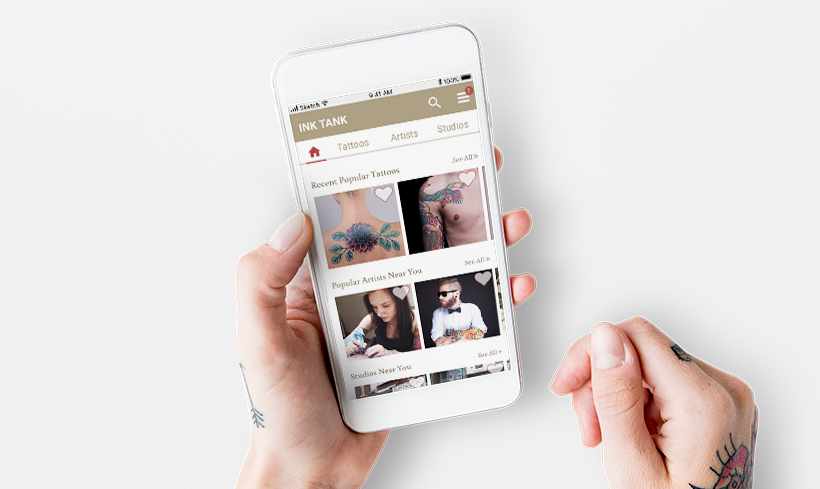 Ink Tank is an app to find cool tattoo designs, reliable artists, and studios near you. There are many people who have problems such as regret getting their tattoos or being addicted to ink. Tattoo making is a large industry (In the U.S., 36% of 18-25 year olds and 40% of 26-40 year olds have at least one tattoo), but there are a few competitors. Ink Tank is designed to improve these situations, especially for tattoo beginners to reduce their concerns and help them to get their first dream tattoos.
Role:

Lead UX/UI designer

(individual project)
Timeline:

Aug 2017 - Feb 2018
This is a school project at CareerFoundry UX design course.
I got a project brief with context and basic app feature requirements.
I started out this project by listing possible problems and made the following problem statement to clarify which problem to solve.
"Users need a way to find reliable artists, for both purposes of, design and ethics. Getting a tattoo can cause lots of troubles such as unregulated contents in ink, hygienic issues, and failures. We will know this to be true when we meet people had trouble with artists or regret getting tattoos."
1. Connection Between you and artists
From the user interview, I understand that tattoo virgins concern how much pain they will have, and think artists are scary people. But users who have friends who are artists don't have such concerns.​
So I added connection features. If users have connected with SNS such as Facebook or LINE, their friends or their friends' friends will be appeared in artist profile page. Also, users can search artists by their connection.
2. View artists' non-perfect works as well
Users want to know how much reliable the artists are in terms of their skills and remove the anxiety of failure. But with other products or services they use, they can only know the artists' best works.
So I added a feature to allow users to upload photos and tag the artist and rate him/her (anonymously, if they want).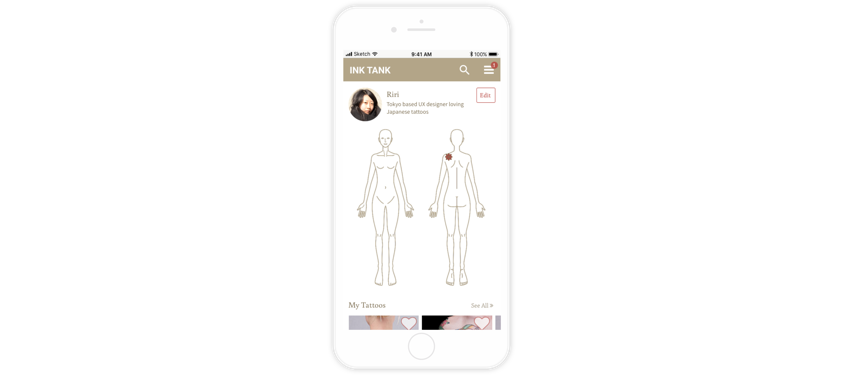 Although some tattoo virgins don't feel like they want to upload their tattoo photos if they didn't have benefit to do so, tattoo addicts are eager to show off their tattoos for the tattooed community. Also, tattoo virgins want to get advice from experienced people and tattoo addicts love talking about tattoos to people who have interests in tattoos.
So I added a tattooed avatar on his/her profile to encourage them to upload their tattoo photos. This shows how many tattoos they have and where they are. This is automatically done when they upload their photos by adding body parts tag. This allows tattoo addicts to show off their tattoos and how much they are addicted. Also, users can know how experienced the user is at a glance and then they can know which artists are chosen by experienced people. This feature also helps the app to enable users to search by body parts.